Table of Contents (?)

Site Page Counts
Public: 151
Restricted: 41

The first and oldest of these photos is of the Daniels family, taken in early 1907 --based on known birthdates of two baby girls in the photo-- in Nesvizh.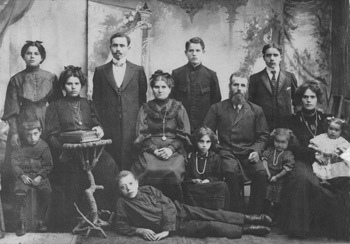 Daniels Family
Nesvizh, Belarus, 1907
This group consists of my mother's paternal grandparents Tevia Danilewitz and Pesce Kirzner (Ted Daniels and Pearl), eight of their ten children (my grandfather Sam and his older brother Isie were already in NYC), one son-in­-law and the first two grandchildren (one more was born in Nesvizh before all (except great­grandmother Pearl who died in flu epidemic of 1918), came to NYC.
From left to right, standing:
Bessie Daniels, b. 1895 .
Julius Daniels (not a son of Ted and Pearl, BUT son of Ted's brother Shmuel and Pearl's sister Anna, so a double first cousin of his wife Mary seated at the table!), b. 1885;
Joseph Daniels, b. 1893;
Mike (Shmuel) Daniels, b. 1889.

Seated, from left to right:
David Daniels, b. 1900;
Mary Daniels, b. 1885, married to her double first cousin Julius;
Pesce Kirzner Daniels (daughter of Beryl and Sarah, b. c. 1855;
Sarah Daniels, b. 1899;
Ted Daniels, b. 1856;
Sara (Shirley) Lempert (Lampert) first Daniels grandchild, b. Oct. 1904; Riva (Rebecca) Daniels Lempert (mother of two baby girls), b. 1882; Miriam Lempert, b. May 1906.

Reclining:
Louis Daniels, b. 1897.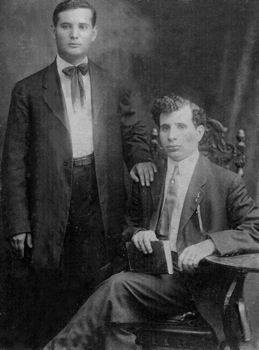 My mother's father Sam Daniels, b. 1887 and his older brother Isie, b. 1883.
circa 1910
Standing:
Harold Daniels, b. Nov. 1919;
Pearl Daniels Vann (my mother), b. Jan. 1922;
Bernard Daniels, b. May 1917;

Seated:
Sam Daniels, b. May 1887 (died later in 1939 at age 52);
Chickie (Dorothy) Daniels Schwimer, b. Dec. 1929;
Freda Marshall Daniels, b. Feb. 1894.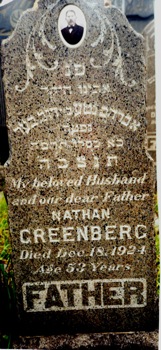 Headstone of Nathan Greenberg, born Avraham Nisse Kirzner.
New York City.
Headstone of Nathan Greenberg, whose original name was Avraham Nisse Kirzner. He was a younger brother of Pearl Kirzner Daniels, my great-grandmother.

He is buried in a NYC (probably Queens) cemetery-- where, I don't know.

This was sent to me by one of his granddaughters, a 2nd cousin of my mother whom I never met personally. According to 1874 Nesvizh census, Nathan was born 1868, though according to headstone, he would have been born in 1871 -- I trust the 1874 census.
---