Table of Contents (?)

Site Page Counts
Public: 151
Restricted: 41
Several months went by before we received from father the needed documents, modified so as to satisfy the Polish authorities. When all seemed to be in order, we were told that we had to wait another year and a half to receive American visas. The despair and anxiety caused by this information made all four of us sick. Yet we could do nothing but keep waiting. It was impossible to return to Russia and we had no other alternative.

Thank God we had everything necessary to keep living, we did not lack an occupation, I worked in the store and so we were relatively satisfied. My two small sisters also wanted to work. Taibe (Tilly) went to work in an oil factory that belonged to a man called Moishe, who had received a loan from mother and was paying us interest. Tilly's work consisted in filling bottles with oil, a task that was not easy nor pleasant, but she learned rapidly.

Our middle sister liked sewing and she started studying to become a dressmaker. Tilly was making some money and both were studying. I was three years older than Rochl, the middle sister.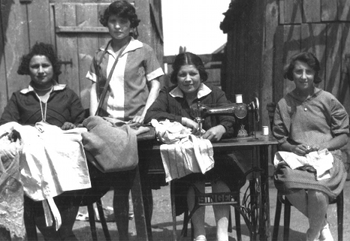 Kletsk Seamstresses, Circa 1928
photo: Courtesy of the Tarrow Family
Editor's Notes:
Oil factory: Two Olejarnie or huileries, oil processors, are listed in the Kletsk entry of the 1929 Polish Business Directory, one of them run by an M. Blacher.
---